Purpose of these Standards
In an effort to present a consistent image for the university, the Office of Marketing & Communication Services has compiled some basic guidelines addressing the proper and acceptable usage of the university's logos in visual communications.
This Visual Brand Guide is designed to assist everyone in proper usage of University marks. All marks are property of Heidelberg University and it is necessary that they be used properly. These rules apply to anyone using a Heidelberg mark, both internally and externally.
Official colors
Historically, Heidelberg's colors have been red, orange and black, representing the historic origins of the Reformed Church. Today, these colors have been adapted to serve Heidelberg's various constituents.
Heidelberg Red
Pantone® color: PMS 200 C
C-16 M-100 Y-87 K-7
R194 G32 B50
Hex# C22032
Heidelberg Orange
Pantone® color: PMS 166 C
C-4 M-82 Y-100 K-1
R-228 G-84 B-36
Hex E45424
Heidelberg Black
Pantone© color: 7 C
C-0 M-0 Y-0 K-92
R-20 G-20 B-20V
141414
Official Logos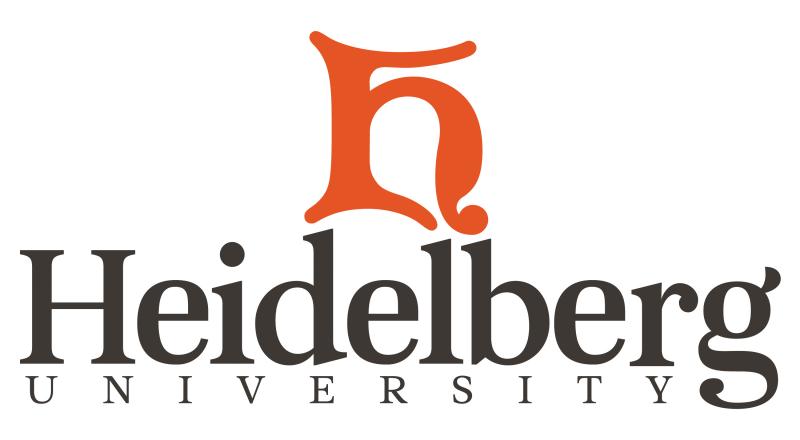 Logos in different colors and formats are available for download and in the Heidelberg Logos folder on server six.
A logo is the defining feature of any visual brand and what people most closely relate to when they think of an organization. Consistent and correct usage of our University logo and brand mark is the key to reinforcing this message and making our visual brand strong and unmistakable.
The Heidelberg University logo is composed of our brand name "Heidelberg University" and our brand mark "H" in a specific configuration. Each element is designed to work with the other and should not be altered under any circumstance. Use this two-color version of the University logo whenever possible. When using the logos, be sure to use the logo as provided. Do not change the colors or spacing, as careful adjustments have been made to make sure each logo is correct for the intended background. When placing the logo on a white or light color background, use the two-color logo version. On a darker background, the white version will work best.
The Brand Mark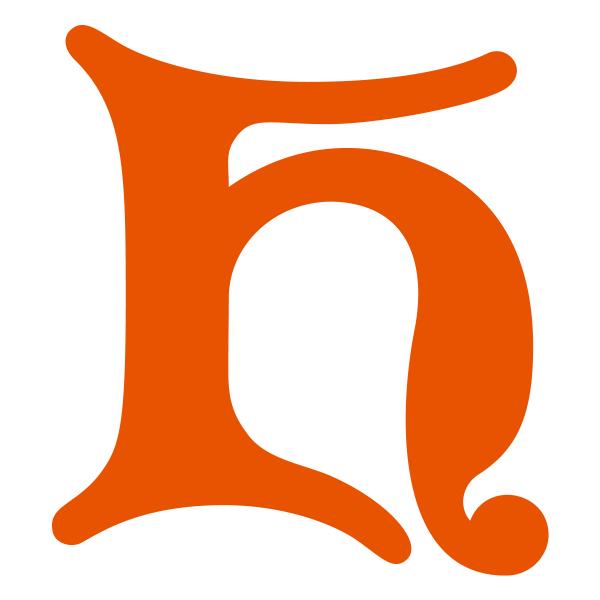 More popularly referred to as the Heidelberg H, our brand mark is based on earlier renderings of historic stylized H. The brand mark should be used only for internal campus publications and should never be presented as a single element to represent the University.
Note: Do not crop the University logo to use the brand mark. The brand mark should never be used on the same page as the University logo or with graphics or symbols that compete with the it.
The Heidelberg Seal is to be used only on official publications, such as those for the Office of the President, Board of Trustees and commencement materials. The Heidelberg logo and Heidelberg Seal are not interchangeable. The Seal is not available for general use.
The Student Prince

To better represent the competitive nature of athletics, the Student Prince was redesigned to appear fierce and competitive. Careful consideration was given while designing the new image, from the angle of the head to the flow of the cape and position of the sword and shield. Custom lettering was developed for the logotype, which is carried throughout all variations.
Logo Violations
Never typeset or attempt to re-create the Heidelberg University logo on your own. Specific type treatments and proportions are specialized and should not be altered. The logo should never be stretched, condensed or altered in any way.
Examples of Incorrect Logos
Below is a collection of outdated or unapproved logos. If you are currently using these logos, please update your files with newer versions.

(old version logo with red, circle tower and all-caps lettering)
(old version of H that is narrow & has drop shadow)
(old version of H and font has changed)
How to Obtain Logos
Versions of the approved logos may be downloaded from this website or found in the Heidelberg Logos folder on Server6.
For other logo requests or questions on usage, please contact the Office of Marketing & Communication Services. The Office of Marketing & Communication Services can also assist you in producing attractive and effective publications. Please contact us when planning a communication and we will be happy to work with you to meet your communication objectives, budget and timeline.
Contact
Audrey Burkholder
Director of Marketing & Communication Services
419.448.2171
aburkhol@heidelberg.edu